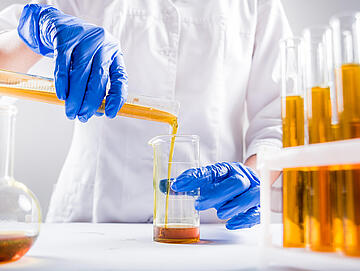 Refine Your Expertise
Sharing knowledge to increase lab efficiency in petrochemistry analysis
Our team of lab experts is sharing their knowledge to help you accelarate your analysis workflows in refining and petrochemistry with web seminars, e-books, application notes, and more.
On Demand Web Seminars
Did you miss our past web seminars? Check below do re-watch the sessions!
Whitepapers & E-Books
Check out our whitepapers, e-books, and other documents helping you to make lab life easier.
We are presenting a new method for LPG analysis that greatly improves the safety in your lab and the quality of your analysis results. The analysis times are also much shorter. Even non-specialist personnel can thus safely and quickly measure liquefied pressurized gases/liquefied petroleum gases (LPG) samples. The method only has to be integrated once.
Halogen analysis is essential in environmental monitoring, quality control in the chemical and petrochemical industry, and waste disposal or recycling. Learn more about the basics of halogen determination in our free whitepaper. Topics include an overview of combustion-based digestion and detection methods, the objective of sum parameter analysis in general, sample preparation, and application examples.
Analytik Jena's new lab guide helps you master sample preparation for challenging matrices in organic elemental analysis and trace analysis with atomic spectrometry techniques. It covers dilution for liquid and solid samples in organic elemental analysis as well as methods like sample digestion for inorganic analysis. Get in-depth insights into the sample treatment process and step-by-step instructions for different dilution and microwave digestion methods.
Application Notes
Browse through our application notes and filter by chosing your analysis method, field of industry, product, and more.