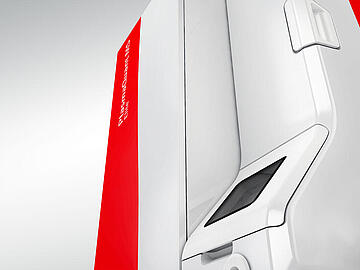 PlasmaQuant MS – ICP-MS Analyzer
Sensitive – 1500 Mcps/ppm at <2 % CeO
Cost-effective – half the argon consumption
Fast – 50 % higher sample throughput
Robust – matrix-independent long-term stability
Versatile – optimized for research and routine use
Faster, more sensitive, less expensive ICP-MS analysis for modern laboratories
Both research and routine laboratories with the highest efficiency and detection standards benefit from the PlasmaQuant MS series of ICP-MS instruments in three ways: market-leading sensitivity, the highest sample throughput, and the lowest costs per sample. These three benefits combine to provide a complete package that equips laboratories with great competitive advantages.
Sensitivity and efficiency
The unparalleled level of sensitivity of the PlasmaQuant MS provides you with analytical advantages that are clearly reflected in efficiency and lower costs per sample.
Best detection limits
High throughput
Reduced sample preparation
Robust performance
Low maintenance requirements
The patented spectrometer design of the ICP-MS systems provides for the lowest detection limits and consistent analytical quality for extremely short integration times and high dilution factors. This ensures high throughput, long-term stability, and reproducible results, while significantly reducing your maintenance costs.
The combination of high sensitivity, high scanning speeds, and short integration times is perfect for laser ablation and single particle analysis. In addition, the outstanding mass separation feature provides the best conditions for isotope analysis.
Configure your personal ICP-MS instrument
The PlasmaQuant MS series offers four models optimized for individual application requirements. Together with a range of upgrade options and accessories, the systems can be optimally adapted to the respective field of application.
PlasmaQuant MS – Product Animation
The PlasmaQuant MS from Analytik Jena sets standards in ICP-MS analysis. Its superior performance is achieved through the synergy of innovative technologies – from the plasma system, to the highly efficient three-dimensional focusing of the ions in the high-resolution quadrupole, to the fully digital detection of ions.
What Our Customers Say
Major cost savings for Blumenfield Science
"We chose PlasmaQuant MS because it offers high sensitivity for the identification of metals from a broad spectrum of liquid and solid samples with diverse and complex matrices. An additional factor is the short analysis time. Argon consumption is low compared with other ICP-MS devices, which has led to substantial costs savings for us."
ICP-MS for research purposes at the University of Münster
"In order to answer our questions we need an instrumentation with high detection power, short measurement times, high spectral resolution and spatial resolution. Only instrumentation that fulfills these requirements can help to answer our questions."
previous
next
PlasmaQuant MS series
Choose the best ICP-MS instrument for your needs
PlasmaQuant MS models
ICP-MS for efficient routine analysis
PlasmaQuant MS
The robust system for efficient and stable characterization of high matrix samples:
Outstanding plasma robustness for high matrices
Minimized drift at changing matrix load
Efficient interference management with outstanding ease of use

PlasmaQuant MS Q
The fast system for high-throughput analysis and superior precision for large sample batches:
High sensitivity for optimized data acquisition
Universal interference management mode
11 orders of dynamic range for full coverage of required concentration range

PlasmaQuant MS Elite models
ICP-MS instruments for demanding material analysis and advanced research
PlasmaQuant MS Elite SThe high sensitivity analyzer for routine ultratrace element detection in clean sample matrices:
Ultra-sensitive and stable performance for best signal-to-noise ratio
High ion transmission with full sensitivity control on complete mass range
Market leading abundance sensitivity
PlasmaQuant MS Elite
The flexible system with ultimate sensitivity and targeted performance optimization using various accessories for advanced research:
Ultimate freedom of optimization through full ion focus control
Shortest dwell time and best mass separation
Flexible connection of accessories using two entry ports to the plasma compartment

Applications
Applications
Determination of Trace Elements in Lithium-containing Borated Waters Coming from Nuclear Power Plants (English)
ASpect MS Software Package
With the intuitive worksheet interface of the ASpect MS software for the ICP mass spectrometers of the PlasmaQuant MS series, you can retrieve all analysis data, mass scan graphs, calibration data, and data logs with a single click of the mouse. Detailed quality assurance protocols guarantee accurate data for reliable analysis. ASpect MS provides compliance support in accordance with 21 CFR Part 11.
Simple to operate thanks to intelligent automation options
Set-up and initialization processes
Plasma alignment
Mass calibration and resolution tests
AutoMax for simple method development
Integrated aerosol dilution for the online dilution of samples with a high TDS content
BOOST technology for high sensitivity in gas mode (interference management)
A range of accessories and upgrade options provide broad application flexibility, easy sample handling, and a high throughput
ASPQ 3300 - autosampler for high-throughput routine analysis
Nitrox - additional gas supply (O2 and N2) for an improved performance in petrochemical applications (O2) and more efficient ionization of arsenic and selenium (N2)
Internal Standards Kit - for the online addition of internal standards
FAST sample introduction - for a faster sample feed and intelligent rinsing protocols
Hydrogen generator - for the safe and reliable supply of iCRC hydrogen gas
Adaptive Mass Range (AMR) - for limited isotope separation according to regulatory export requirements
Learn more about other sample introduction accessories for PlasmaQuant MS instruments that are designed for individual adaptation to your laboratory and analytical needs.
Contact us
We are happy to help you and will contact you as quickly as possible.