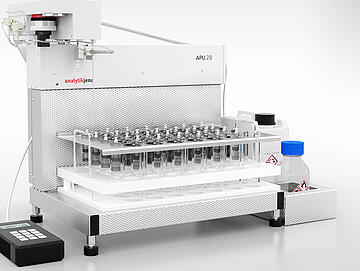 AOX Sample Preparation
Analytik Jena's AOX sample preparation systems minimize downtime while you increase throughput of AOX samples and remain flexible and cost-effective.
​​​​​​​APU 28 Series – Fully automated sample preparation according to column method
The systems are universally applicable, not only ideal for AOX sample preparation, but also for enrichment of samples to determine the new, increasingly important environmental parameter AOF. Sample and rinsing volumes are individually selectable. Processing is done automatically and without manual intervention.
APU 28 – the basic one
processing of the individual samples takes place in immediate succession
after adsorption, the first samples are available for AOX analysis in a very short time
APU 28 S – the fast one
optimal solution for high-throughput applications
simultaneous preparation of 2 samples – up to 112 samples per day
sample throughput is doubled
APU 28 SPE – the versatile one
ideal for samples with high saline content
AOX and SPE-AOX sample preparation with one device
APU 28 flexi – the new flexibility
all APU 28 devices can be used with AOX adsorption columns of other manufacturers
a flexible tray and optimized column holders enable processing of column sizes of 40 mm x 9 mm and 47 mm x 6 mm
APU sim and AFU – ideal for small sample series
APU sim – ideal for small sample series
simultaneous enrichment of up to 6 samples using the column method
channels can be operated individually; adsorption rate, sample and rinse volume can be selected separately
excellent particle handling thanks to the large diameters of the hoses and the absence of conventional valve technology
suitable for columns of all brands up to a total length of 150 mm
AFU – the versatile one
semiautomated sample preparation of up to 3 samples (up to 180 ml) simultaneously by batch method
effective alternative to the classical membrane filtration (no need for expensive polycarbonate membrane filters)
filtration directly into a frit container
easily extendable for sample preparation according to column method
Contact us
We are happy to help you and will contact you as quickly as possible.