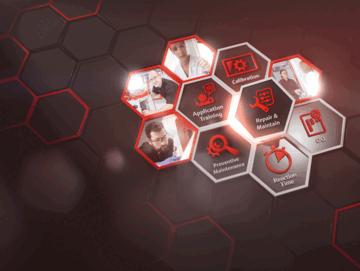 The Service Contract that Fits
Configure Your Own Service Package
Service Contract Modules for Individual Configuration
Design Your Own Service Contract
Dynamic business environments require speed and scope for decision-making. That's why you need a service partner who is flexible enough to support your specific business model. With our new service contract modules, you can put together your service contract individually and select exactly the services that fit your requirements. Of course, with the high service standards that you know from Analytik Jena: competent, fast, friendly.
Our Service Modules
Select what suits your business
Benefit from your modular service contract
Customized - design your own service contract: Our modular service package gives you the design freedom you need for your business model. Whether maintenance, repair, or reaction time - you know best what you need. We take care of the "how" and offer you every service module with the best quality.

Powerful - secure best performance and minimum downtime: Ensure the high performance of your instruments over the entire product lifetime. We take care of your instruments so that you can focus on your analyses. Ensure standard-compliant, reproducible analysis results, work safety, and minimum downtime in the event of maintenance or repair.

Cost efficient - tailor-made and plannable: No rigid contract constructs, no unnecessary expenses: You choose and pay only for the services you need. The initial budgeting of the modules when signing the contract makes servicing your device financially plannable. This eliminates financial and organizational expenses during the year. Upgrades by adding further modules are of course possible at any time

Time-saving - efficient processes, minimal organizational effort: More time for day-to-day business, less organizational effort - indispensable in times of scarce personnel resources. We make organizing your services easy and convenient: Our friendly customer service reminds you of your due appointments, and in the event of a repair, our service staff will be on site quickly - if you book the "Reaction Time" module, even within a defined period of time. One call is all it takes, saving you valuable time

Strong partner: Analytik Jena stands for competent personal service directly from the manufacturer. With more than 25 years of experience in the development and manufacture of instruments, you have a strong and experienced partner at your side. Our experienced technical staff know "their" devices and their functions from the ground up, and our friendly customer service is there for you personally.
Operational qualification
The operational qualification (OQ) proves that the device and its components function correctly and that the defined metrological properties are fulfilled. Standard measurements verify and document the reproducibility of the measurement data. In the event of repairs, modifications, or relocation of the unit to another location, we recommend repeating the OQ.
Scope of services
Standard measurements according to OQ plan
Verification and audit-proof documentation of the unit function
Repair & Maintain
Our Repair & Maintain module is the cost backstop for all those who want planning security and full cost control for their equipment. It includes an individual maintenance concept for your device and covers all repairs during the contract period. This enables you to maintain high performance of your equipment, avoid unforeseeable costs and reduce downtimes. Your maintenance module is specially designed for your device and your application environment. In the event of maintenance and repair, you do not need to do anything else for the processing: one call is enough and our team will arrange an appointment with you.
Scope of services
Maintenance package according to the requirements of your unit

Visual inspection of the unit technology and peripherals
Unit specific maintenance according to protocol
Comprehensive functional check of unit technology and parameters

Repairs during the contract period

Repair time and spare parts
Free unbureaucratic management of your repair incidents
Combination of science and technology
" I'm a graduated physics engineer and have been working with mass spectrometers since 2002, first in sales, service and application consulting, and now as a technical lead engineer in service. What makes the work so interesting for me? It's the combination of science and technology that comes with working with mass spectrometers, but most of all it's working with customers from different countries, industries, and cultures around the world."
Ismail Sel, Lead Engineer
Preventive Maintenance
Your units also need some care - after all, they deliver top performance in high throughput. Don't wait until repairs are needed to start servicing your equipment, have it serviced, checked, and cleaned regularly by our authorized and certified experts.
Scope of services
Helpdesk and remote support
Visual inspection of equipment technology and peripherals
Unit-specific maintenance according to maintenance protocol
Comprehensive functional check of the equipment technology and parameters
Travel allowance for technical staff
We have an eye on every detail. So you can be sure that your device works flawless.
"Better safe than sorry. Regular maintenance keeps your device in top shape. During preventive maintenance, we subject your device to a thorough check-up and ensure that it works in a technically flawless manner and delivers audit-proof, reproducible measurement results."
Andreas Zeitschel, Senior Specialist Service & Support at Analytik Jena
Reaction Time
Speed matters! And with our "Reaction Time" contract module, you are even faster. If any problem with your device arises, we guarantee that we will solve it within an agreed period of time, or - if further action is required, to be at your site. The procedure is as follows: After your notification, we will contact you to solve your problem remotely. If further action is required, we guarantee that our technical staff will arrive within the agreed response time and inspect the device.
Bookable response times are:
48 hours (2 workdays)
72 hours (3 workdays)
Save time and money: With an average first-time fixe rate of more than 95%, in the vast majority of service cases your equipment is up and running again after 72 or 48 hours.
Application training
Benefit from the expert knowledge of our application team. We provide you with the know-how and methods required for your application, individually tailored to your needs and at your premises. Whether it's training, a refresher course, or a new application: our experts prepare your employees optimally for their tasks.
Scope of services
Advice on individual application questions for daily routine and troubleshooting
One application-methodical one-day training in the contract year at your location by arrangement
Training certificate
Travel allowance for the trainers
Customised training for you and your staff
"We are scientists and know our devices and their application areas by heart. Our daily work in training and consulting brings us into contact with the application practice of our customers from all over the world. With our expertise and extensive pool of practical experience, we can provide you and your staff with customized training to help you get the most out of your equipment."
Sandra Wunsch, Applikations Specialist Chemical Analysis
Calibration
Book the "Calibration" contract module and integrate the mandatory temperature calibration of your thermal cycler into your service concept. We take care of everything else: Our friendly customer service reminds you of your appointment and arranges the deployment of our technician on site. Save time, ensure reproducible measurement results and guideline-compliant work.
Scope of Services
Thorough visual inspection of the unit
Cleaning of the unit
Temperature calibration
Travel expenses of our specialist staff
Conclude service contract
Would you like to design your individual service contract for your device? Our friendly customer service will be happy to support you. Please contact us:
+1-909-946-3197 / sales@us.analytik-jena.com
Report service incident
Processing a service case is very easy with us:
Please fill in our service form or
Contact our 7-day hotline by phone, stating your unit number.
Your request is being forwarded to our technical experts who will call you back and discuss the next steps with you.
Please remember to decontaminate before having your unit serviced, whether on site or by sending it in.
Contract customers have priority in the processing of their service calls.