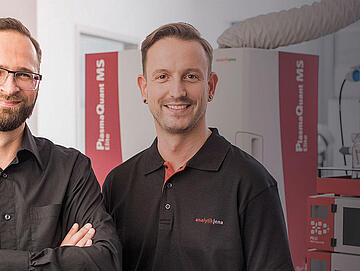 Technical Support
We provide rapid and competent assistance
Maintenance
Maintenance ensures a long life for your analytical instruments
In order to ensure stable measurement results in the long term and high sample throughput, regular inspection and maintenance of analytical instruments is indispensable. Our services match your needs perfectly. We offer service and maintenance packages that are specifically tailored for your situation. The choice of services is up to you. We address your requirements and your budget in a targeted manner. Just ask!
Your benefits:
Value retention for your device system
Quality assurance for analysis results
Save time and unplanned costs
Ensuring work in compliance with industry and ISO standards
Maximum system availability
Safety for your personnel
Individual maintenance intervals and service levels
Service by appointment – we call you
Cost transparency and planning certainty for your budget
You can do something too
On request, our service technicians can provide training so that you can carry out small, simple maintenance and repairs yourself. Through individually organized courses, you will gain technical knowledge on subjects such as adjustment work, control and exchange of wear material, or cleaning for our device systems. And best of all: Carrying out maintenance yourself reduces costs!
Equipment qualification
Competent support from our sales advisors and Service & Support employees makes it easy for you to choose the right analytical measuring technology in accordance with your requirements. In addition, we can assist you with qualification and offer numerous services that can make supervision of your devices easier after procurement.
More information on qualification of devices and the services Analytik Jena offers in this area can be found in our brochure on equipment qualification.
Repairs and restoration
Quality is our calling! Nevertheless, if it ever becomes necessary to repair or restore your devices from Analytik Jena, we are happy to assist as a matter of course. Prompt repair and restoration of laboratory instruments guarantees the precision of your results and helps to maintain the durability and consistent performance of the devices. Of course, the processing of a service case should be carried out as pleasantly for you as possible. However, we rely on several pieces of information from you. Please speak with us in person or fill out our service form and send it to us. We will get in touch with you as quickly as possible.
Service hotline and contact How can we help you?
+1 909 946 3197
Support@us.analytik-jena.com