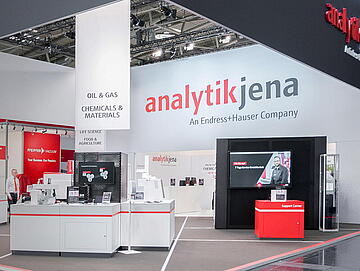 Trade Fairs and Expos
Meet us on international industry platforms
Come and visit us
Personal contact and a continuous exchange of knowledge and experience with our customers is important to us. This is why we are where you can most easily find us – on international technology and industry platforms. In addition, we offer classes, training sessions, and seminars at our international locations. Experience Analytik Jena and our products in person!
"Here" you can find out more about all Analytik Jena events worldwide.
Canadian Society for Analytical Sciences and Spectroscopy (CSASS)
Date: July 26, 2023 – July 28, 2023
Location: Ottawa, ON, Canada | Delta Ottawa City Centre
Information:
Exhibition as well as oral and poster sessions to learn about the latest developments on a variety of topics in analytical sciences and spectroscopy.
Date:
August 22, 2023 |17 PM CEST
August 23, 2023 | 9 AM CEST
Duration: ~60 min
Language: English
Speaker:
Dr. Stefanie Navabi, Product Manager Life Science Solutions
Markus Arndt, Application Specialist Life Science Solutions
Many thermal cyclers, one place: Thanks to the thermal cycler management software Biometra TSuite, you can manage, program, and monitor multiple thermal cyclers intuitively and conveniently from your office desk - regardless of how many you have and where they are located.
In the web seminar, we would like to show you the functions the software has in store for you and how the operating concept guides you through the application. After the presentation, there will be time for a Q&A session with our experts.
Events and Exhibitions How can we help you?
Carrie Brennan
Marketing Manager
+1-909-946-3197 X209