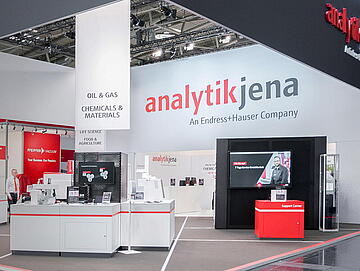 Trade Fairs and Expos
Meet us on international industry platforms
Come and visit us
Personal contact and a continuous exchange of knowledge and experience with our customers is important to us. This is why we are where you can most easily find us – on international technology and industry platforms. In addition, we offer classes, training sessions, and seminars at our international locations. Experience Analytik Jena and our products in person!
"Here" you can find out more about all Analytik Jena events worldwide.
AACR Annual Meeting 2023
Date: April 14, 2023 – April 19, 2023
Location: Orange County Convention Center | Orlando, Florida
Information:
The AACR Annual Meeting program covers the latest discoveries across the spectrum of cancer research—from population science and prevention; to cancer biology, translational, and clinical studies; to survivorship and advocacy—and highlights the work of the best minds in research and medicine from institutions all over the world.
Please visit our booth #1533.
Canadian Mineral Analysts Conference (CMA)
Date: April 23, 2023 - April 27, 2023
Location: Montreal, Quebec
Information:
Come visit our booth at the Canadian Mineral Analysts Conference!
This years conference programs will include:
Technical presentations
CALA workshop
Guest speakers
A guided tour of SCP SCIENCE
A guided tour of Glencore Factory
Immunology (AAI)
Date: May 11, 2019 – May 15, 2023
Location: Washington, DC
Information:
At IMMUNOLOGY, you'll hear from global leaders in immunology and talented early-career investigators alike—all discussing breakthroughs across the full spectrum of topics in the field. Explore the latest developments in immunology. Attend lectures by the world's most prominent scientists. Speak with poster authors presenting the latest science and network with colleagues from around the world. Discover new techniques and resources that can benefit your research.
Please visit us at booth #4031
LRIG Philadelphia
Date: May 11, 2023
Location: Alloy King of Prussia | King of Prussia, PA
Information:
The LRIG Philadelphia Annual Vendor Exhibition is scheduled for Thursday May 11th 2023 and will be held at the Alloy King of Prussia - a DoubleTree by Hilton- Valley Forge from 4:00pm to 8:00 pm. This Technology Exhibition will showcase the latest in laboratory instrumentation, automation, software, reagents and consumables. Free food will be served and the meeting will provide a wonderful networking opportunity for area scientists and engineers to connect and share ideas.
STLE Annual Meeting 2023
Date: May 21-25, 2023
Location: Long Beach, CA/USA | Long Beach Convention Center
Information:
The Society of Tribologists and Lubrication Engineers (STLE) Annual Meeting & Exhibition is the lubricants industry's most respected venue for technical information, professional development and international networking opportunities. Each year STLE's five-day conference showcases some 500 technical presentations, application-based case studies, best practice reports and discussion panels on technical or market trends. Our annual trade show and popular Commercial Marketing Forum spotlight the latest products and services of interest to more than 1,600 lubrication professionals that come from around the world, representing a full range of the industry's most prestigious corporate, government and academic institutions.
FSEA Spring Conference 2023
Date: May 24-26, 2023
Location: Clearwater Beach, FL/USA | Marriott Sandkey
Information:
The Florida Society of Environmental Analysts (FSEA) Annual Meeting & Exhibition will be beneficial to all field samplers, operators, engineers, analysts and managers in the environmental field. Come join us for an opportunity to network and exchange ideas and information.
ASM – American Society for Microbiology
Date: June 15, 2023 – June 19, 2023
Location: Houston, TX/USA
Information:
The American Society for Microbiology is the largest single life science society, composed of over 50,000 scientists and health professionals. ASM's mission is to promote and advance the microbial sciences.
Canadian Society for Analytical Sciences and Spectroscopy (CSASS)
Date: July 26, 2023 – July 28, 2023
Location: Ottawa, ON, Canada | Delta Ottawa City Centre
Information:
Exhibition as well as oral and poster sessions to learn about the latest developments on a variety of topics in analytical sciences and spectroscopy.
Events and Exhibitions How can we help you?
Carrie Brennan
Marketing Manager
+1-909-946-3197 X209