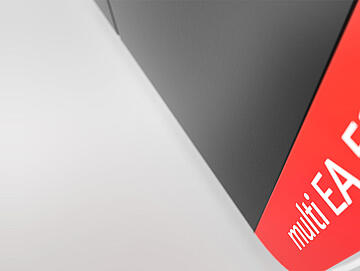 multi EA 5100 – Micro-elemental Analyzer
Your entire C/N/S/X lab in one device
Extensive range of applications without device modification

A single analyzer for solid, liquid, gaseous and LPG samples

Self Check System for unattended operation and reliable results

Vertical and horizontal combustion in one system
Versatile, fast, and sensitive micro-elemental analysis
The multi EA 5100 is extremely versatile. In addition to the testing of carbon, nitrogen, sulfur, and chlorine, analyze for important environmental parameters such as TOC, AOX/TOX, and EOX.
C/N/S/X testing is carried out in one analysis cycle, the change between C/N/S and X determination is fully automatic, with no conversion of the instrument required. Preset standard methods simplify your work further and reduce measuring time.
Optimal for oil and gas, petrochemical and chemical, and polymer industries
Compliant for a large number of common international and national regulations (ASTM, EPA, DIN, ISO, EN, etc.)
The modular principle allows for the system to be designed individually – an extension is possible at any time should your requirements change
HiPerSens detection provides for a broad linear measuring range at the highest levels of detection
High sensitivity, fewer replicates – fast analyses, high throughput
In addition to system and operational safety, the multi EA 5100 micro-elemental analyzer offers reliable and fast measurement results. Flexible automation possibilities for a high sample throughput reduce the costs per analysis considerably. The device guarantees the competitive advantage of your lab in terms of cost-effectiveness and analysis quality.
multi EA 5100 – Product Video
The multi EA 5100 is your flexible all-round solution for micro-elemental analysis in solids, liquids and gases. QC analysis, research, and contract labs will benefit from its combination of outstanding robustness and sensitivity – plus quality, service and cost-effective 24/7 high-throughput analysis in every matrix.
What Our Customers Say
"We obtain reliable results and save a great deal of time"
"Each sample is fully combusted and residue-free. That is the best foundation for reliable measurement results. We also save a lot of time in method development since, thanks to the flame sensor, each sample can be oxidized quickly and easily in a variety of quantities without precise knowledge of its combustion characteristics. We are also well prepared for the future when it comes to meeting even higher quality requirements for our products."
Peter Frenzel, Head of Analytics and Quality Manager at The Dow Chemical Company
multi EA 5000
Predecessor
The elemental analyzer multi EA 5000 is a versatile all-rounder for the elemental analysis of nitrogen, sulfur, carbon and chlorine. Thanks to its modular design, the multi EA 5000 can be used for a variety of other analyses as well - including parameters such as TOC, EOX or AOX/TOX. The systems can be configured to meet individual requirements. Analytik Jena uses the unique double furnace technology for sample oxidation. It allows you to switch quickly between vertical and horizontal operation modes with a single instrument. This ensures optimum combustion of almost any sample matrix.
Applications
Applications
Test Method for Total Chlorine in New and Used Petroleum Products by Oxidative Combustion and Microcoulometry according to IP 9076 resp. UOP 9076
multiWin Software
Safe, intuitive and reducing workload
Intuitive user guidance
Comprehensive user-oriented functions like multi-point and multi-range calibration, blank correction, recalculation of results, free choice of results dimensions, statistical functions
Integrated quality and performance check functions
User management, audit trail
Comfortable management and storage of data and parameters
Automatic and manual data import and export functions
Fully automatically control of maintenance intervals
Extensive library of ready-made, compliant analysis methods
Make use of the best accessories for the multi EA 5000 to adapt your every need.
Contact us
We are happy to help you and will contact you as quickly as possible.