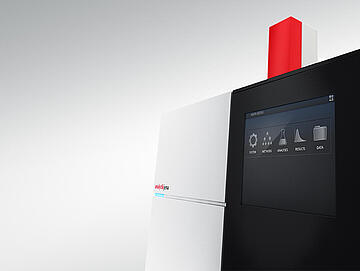 compEAct
Analyze nitrogen and sulfur levels the EAsy way
Reliable analysis of sulfur and nitrogen
Maximum sample throughput
Minimum maintenance requirements, maximum safety
Minimum space requirement
Time-saving features: pre-calibrated, factory-tuned, short measurement times, 24/7 operation
Simplify your quality control with compEAct
compEAct ensures the fast and reliable analysis of sulfur and nitrogen in liquids, gases, and LPG samples from refineries and the petrochemical and chemical industries – even when laboratory resources are scarce. High throughput, short measurement times of 2 to 5 minutes, and user-friendly software help you to reduce costs and increase productivity.
Simple touchscreen operation with full access to an extensive method library
Wide linear measuring range and the lowest detection limits (N: 15 ppb, S: 5 ppb) with HiPerSens detection
Conformity with national and international regulations (ASTM, ISO, UOP, IP, EN, GOST)
Compact stand-alone design – all relevant system components combined in one device (footprint < 0.3 m²)
Suitable for unattended 24/7 operation, remote access
The nitrogen and sulfur analyzer that thinks for you
The onboard EAvolution software sets standards in simplicity and functionality. Its central features include flexible data export, individual reporting, and an integrated method library. An integrated LAN connection allows for remote access and straightforward LIMS integration.
Thanks to the compEAct self-monitoring system, you do not have to worry about unplanned downtimes for maintenance and system checks. The EAsy Protect system monitors and optimizes all relevant process parameters in real time. The maintenance assistant informs you of upcoming maintenance requirements and minimizes maintenance cycles and costs. The integrated Auto-Protection System guarantees operational reliability and the maximum service lifespan for important system components.
What Our Customers Say
"compEAct has won us over completely"
"We use compEAct for routine sulfur testing. The instrument has won us over completely. Its analysis speed for routine operations is unbelievable, it is very easy to operate, and fits into even the smallest laboratory corners."
Dr. Tobias Munde, Associate Analytical Manager at Dow Olefinverbund GmbH
Applications
Applications
Fast and Reliable TS Determination in Liquefied Pressurized Gases (LPG) according to ASTM D6667, ASTM D7551, and DIN EN 17178
EAvolution Software
The EAvolution software is self-explanatory. With the look of a smartphone app, it provides full access to all important functions of the device. Its simplicity ensures smooth operation and reliable analysis without extensive user training. A pictogram-based interface, flat substructures and a Quick Access sidebar allow easy navigation between menu items. The software comes equipped with a library of ASTM, ISO, UOP and IP compliant methods, calibration sequences and check functions.

EAvolution – Your Benefits
Intuitive operation using multi-touch gesture control and Quick Access sidebar
Customized reports and data export
Integrated method library
Full standard compliance (ASTM, DIN, ISO, IP, etc.)
Maintenance assistant, messaging, service module
Automatic data backup and LIMS connectivity
A LAN port allows external control and data evaluation, and online support
The best accessories for sulfur & nitrogen analysis applications
The degree of automation for the compEAct is adaptable to individual requirements – from manual handling of just a few samples a week, up to fully automated, unattended operation around-the-clock in high throughput laboratories.
| Title | Info |
| --- | --- |
| Manual compEAct S (English) | PDF, 10 MB |
| Manual compEAct N (English) | PDF, 10 MB |
| Manual GSS Module – for multi EA 5000/compEAct (V11, Edition 0.19, English) | PDF, 4 MB |
| Manual combi module GSS/LPG – for multi EA 5000/compEAct (V11, Edition 2.19, English) | PDF, 5 MB |
| Manual Software EAvolution (Edition A (08/2020), English) | PDF, 11 MB |
Contact us
We are happy to help you and will contact you as quickly as possible.