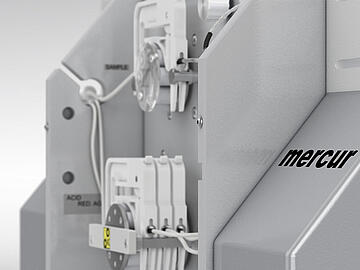 mercur DUO plus – Hg Analyzer
Mercury (Hg) determination in the trace and ultratrace range
Efficient – automated and time-controlled flow injection technology
Safe – bubble sensor, optimized drying membrane and cascade enrichment
Effective – low reagent consumption, short measurement times
Efficient Mercury Analysis
The mercur DUO plus will help you meet all the current requirements and guidelines for Hg analysis. This powerful mercury analyzer works according to standards (EPA, EN, ISO) based on atomic absorption (AAS) and atomic fluorescence (AFS), offering you full flexibility for a variety of applications.
Thanks to the integrated enrichment module with two gold collectors, you can realize determination limits from the low ng/l (ppt) to the pg/l (ppq) range with high method robustness, depending on the type of sample and configuration.
Excellent detection limits
Wide linear measuring range
Simple or cascade enrichment (according to EPA method 1631)
Operating Convenience & Automation
With the mercur DUO plus mercury analyzer, you always work efficiently. Whether in the manual version for small sample numbers, or when using the AS-F or AS-FD autosamplers for maximum sample throughput – the basic principle of the mercur DUO plus is continuous operation:
Automatic dosing of reagents and sample solution
Automatic flushing of the tubing paths
Automatic cleaning of the carrier gas
Mercury Analyzer Software: WinAAS
A proven control and evaluation software, WinAAS provides both routine users and scientists with the optimal solution. The software concept meets all requirements of modern routine and science laboratories while also providing incredible benefits to the user.
Intuitive and user-friendly
Variable and flexible in optimization
Complete GLP-compliant documentation and logging
Fast and easy saving and loading of methods and parameter files
Convenient sample table with a wide range of action options
Automatic quality control to monitor analytical data
Fast-Baseline Routine
The basic routine methods in the "cookbook" correspond to the various operating modes and facilitate the rapid use of the mercur DUO plus in daily routine. At the same time, they are the prerequisite for rapid method optimization for more complex analytical tasks.
Mercury Analyzer Applications
Mercury analysis is employed in a wide range of fields. Due to its harmful influence on the human organism, mercury is a focus of close attention in medical disciplines such as occupational medicine and dentistry, as well as in drinking water and food control. The mercur DUO plus has been designed for dependable mercury analysis in all these fields. Teamed with the customer support provided by Analytik Jena, the instrument meets the statutory concentration limits.
| Industry | Applications |
| --- | --- |
| | Drinking water, fresh water, rain water, waste water, soil, etc. |
| Medicine | Blood, urea, serum, saliva, etc. |
| | Fish, beverages, cereal, etc. |
| Geology | Rocks, ashes, minerals, etc. |
| Industry | Quality inspections, paper, plastics, etc. |
| Research & Teaching | Universities, research institutions, etc. |
Mercury Analyzer Accessories
AS-F and AS-FD – Autosamplers for flame mode, hydride techniques, and atomic fluorescence.
The autosamplers for the flame mode AS-F and AS-FD make your routine analyses of standards and samples almost fully automatic.
Contact us
We are happy to help you and will contact you as quickly as possible.