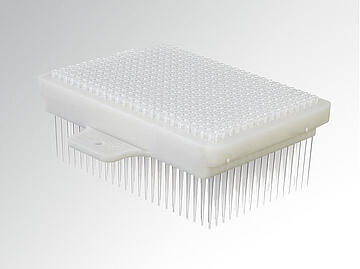 Tips for CyBio Well vario and CyBio Well
High throughput screening proven tip sealing technology
Product Details
CyBio TipTrays are designed, manufactured and quality inspected with respect to automation requirements, in turn permitting unattended, precise and highly reproducible sample processing.
Customer-specifically racked CyBio TipTrays allow for excluding a user-defined number of tips from the pipetting process. The layout of pipetting tips can be chosen freely to achieve exceptional pipetting patterns.
CyBio TipTrays offer High Throughput Screening proven Tip Sealing Technology
Several tip types with and without filter cover a volume range from 0.2 µl to 250 µl
Specifications
For more information about technical data, see the applications and specifications for the CyBio Well and CyBio Well vario pipetting robots.
Technical Data
Tips for CyBio Well vario and CyBio Well
Tip Type
Tip Format
Quality

250 μl DW
250 μl SW
60 μl
25 μl
10 μl

Standard
PCR-certified, pre-sterilized
PCR-certified, pre-sterilized, filter
Contact us
We are happy to help you and will contact you as quickly as possible.