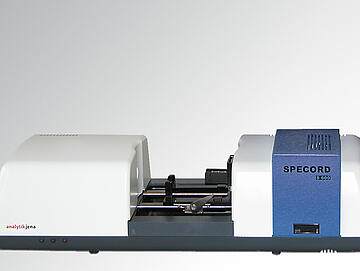 SPECORD S 600
Precision
Convenient Handling
Speed
Reliability
Diode array spectrophotometer for working in the UV- and Vis-range
The SPECORD S 600 offers all the advantages of diode array technology for work in the UV and Vis range. The high performance diode array spectrophotometer combines the precision and comfortable handling required in the laboratory with speed, reliability and high optical performance.
The analytical advantages
High precision polychromator systems – permanently adjusted and fixed with no moving parts
Open sample compartment which accommodates all available accessories of the SPECORD S 600
Excellent spectral properties, fast measurement of complete spectra in less than 12 milliseconds
Life Science package for measurements of small sample volumes, determination of DNA/RNA (additional module)
Self adjusting photometric linearity
Automatic stray light correction
Easily accessible and interchangeable light sources
Self Check System (SCS)
The MCS (Multi Channel System) optics has proven its worth based on lasting dependability in laboratory analysis as well as process analysis.
High-precision optics
The polychromator systems, designed to work without any movable components, are the heart of the SPECORD S 600. The high-precision optics consists of an aberration-corrected grating, a mechanical slit and the diode array detector. Encased in a rugged quartz-ceramic body, it is permanently adjusted, fixed and insensitive to external influences. This design ensures extremely accurate and highly reproducible results. At the same time, SPECORD S 600 provides all the flexibility needed to solve most analytical problems. Ruggedness, thermal stability as well as their high light yield are additional advantages of this device.
High-speed spectrometer
With a minimum scan rate of 12 milliseconds the SPECORD S 600 offers extremely fast analyses.
Software
The modular Windows software package WinASPECT is perfect for controlling the SPECORD S 600 and for the evaluation of data. Linking WinASPECT to LIMS systems as well as the user-specific export of data to external programs (e.g. Excel) are possible.
WinASPECT consists of a comprehensive basic software and numerous specific tools for individual applications:
Data handling such as addition, subtraction, peak search, smoothing, derivative, interactive wavelength selection, integration and normalization
Quantitative analysis with statistical functions
Formula editor for creating individual formulas
Kinetics tool for evaluating time-controlled reactions
Life Science program package for the quantification of nucleic acids and protein
Water analysis with preprogrammed methods
Validation to verify specific device parameters using certified standards
Macro programming for individual method development for automated measurement, evaluation and documentation processes
Comprehensive brewery analysis tool for determining the parameters like color, bitter substances, iodine, ethanol, sulfite
Tool for color determination like calculating the color coordinates using the different standard illuminant art, white/yellow index and color numbers, compliant with relevant standards
Tool for measuring the layer thickness of transparent coatings and foils
Conformity to FDA 21 CFR Part 11 ensures comprehensive user management, an electronic signature facility and the Audit Trail.
Cell holder
Standard cell holder, 50 mm
Cell holder, 100 mm
Holder for cylindrical cells
Holder for absorption tubes
Universal holder for accommodation of accessories
Cell holder, 50 mm pathlength, thermostatted
Cell holder, 10 mm pathlength, thermostatted without/with stirrer
Round cell holder
Solid sample holder
Adjustable cell holder for small cells aligned to the sample beam with pathlength 10 mm
Holder for small cells, adjustable accommodation of small cells exactly aligned to the sample beam with pathlength 1/2/5/10 mm
Peltier cooled cell holder, air-colled
Cell holder peltier cooled with stirrer and external heat exchanging
Miscellaneous
Cell Carousel with 15 vials, not thermostatted
Cassette sipper system
xyz autosampler APG basic with sample racks for 49, 64 or 116 vials
Diffuse reflectance accessory with integrating sphere
11° – 60° variable angle reflectance accessory
Angle accessory for absolute reflectance
SMA and collimator fiber coupling
Standard immersion probe
Cell changer
The 6-cell changer is available in the following configurations
Cell changer for cuvettes with variable layer thickness, sample block for cuvettes with 10, 20, 40 and 50 mm thickness, no temperature control, without stirring fucntion
Cell changer for cuvettes with 10 mm layer thickness, temperature control via external thermostats
Cell changer for cuvettes with 10 mm layer thickness, temperature control via external thermostats and with magnetic stirring function
Peltier temperature controlled cell changer with or without magnetic stirring function
The following additional options are available for the 8-cell changers:
Magnetic stirring function
Temperature control with external thermostats
Peltier temperature controlled with or without magnetic stirring function
Cell Carousel with 15 vials, not thermostatted
Contact us
We are happy to help you and will contact you as quickly as possible.