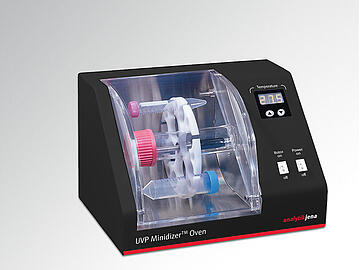 UVP Minidizer Oven
Microprocessor controlled incubation temperature
LCD display for easy operation
Rotation speed set at 12 rpm
Product Details
3/8" thick acrylic door for easy viewing of samples and blocking of ß-emission
Easy to clean interior made of stainless steel
Cover swings open for easy access to the bottle carousel; the carousel pops out of chamber for easy insertion of bottles
Heating element: 500 watts
Maximum power consumption: 475 Watt
The UVP Minidizer Oven is a cost-effective device with low space requirements for temperature incubation of membranes during blotting procedures. The Minidizer operates with a state-of-the-art microprocessor as well as temperature and variable speed controls. The instrument enables consistent saturation of samples, whether for washing or hybridizing. Internal stainless steel construction enables the environment to be easily kept clean. The oven accommodates four 35 x 150 mm bottles, four 50 ml and eight 15 ml conical plastic bottles. The carousel pops out of the chamber for easy insertion or removal of bottles.
*Product performance and effectiveness will depend on the user.*
Technical Data
Technical Data

Number of
Hybridization chambers

1

Min. Temperature

10 °C above RT

Max. Temperature

80 °C

Temperature Accuracy

± 0.5 °C to 68 °C

Temperature Uniformity

± 0.1 °C to 68 °C

Rotor Speed

12 upm

Bottles (30 cm)

4

Bottles (15 cm)

4

50 ml tubes

5

15 ml tubes

5

Footprint (W x D)

33 x 20 cm

Height / Weight

23 cm / 5.1 kg
Order Information
Previous description: OV 500
Order number*
Description
95-0330-01 (US)
849-30004-4 (EU)
UVP Minidizer Oven, 115 V, US
95-0330-02 (US)
849-30004-3 (EU)
UVP Minidizer Oven, 230 V, EU
95-0330-03 (US)
849-30004-5 (EU)
UVP Minidizer Oven, 100 V
849-30004-2
UVP Minidizer Oven, 230 V, UK

* Hybridization bottles sold separately.
Accessories
Order number
Description
Quantity
07-0174-01 (US)
849-30082-0 (EU)
Hybridization bottle small, 10 x 3.5 cm incl. cap, O-ring and PFTE seal
1
849-30083-0
Bottle cap incl. O-ring and PFTE seal
1
Contact us
We are happy to help you and will contact you as quickly as possible.