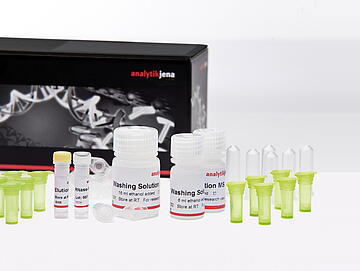 innuPREP DOUBLEpure Kit
Combination kit for fast extraction of DNA fragments from agarose gels or amplification products from PCR reaction mixtures as well as sequencing reactions
Product Details
Flexible elution volumes between 30 and 50 µl (standard protocol) and 10 to 20 µl (»Mini-Elute« protocol)
High recovery rates of up to 95 %
Capable of processing fragment lengths of up to 30 kb
The innuPREP DOUBLEpure Kit allows efficiently extracting of DNA fragments from TAE or TBE agarose gels and utilizes a novel 2-step technology for purifying amplification products from PCR reaction mixtures and sequencing reaction mixtures. The Spin Filter column has a binding capacity of over 20 µg, making it possible to achieve high yields and excellent quality when isolating DNA fragments. In addition, the kit also produces recovery rates of up to 95 % depending on the fragment size. Other outstanding features of the innuPREP DOUBLEpure Kit include easy handling, flexible settings for elution volumes and fast purification protocols.
Specifications
Starting material
PCR reaction mixes (up to 50 µl)
TAE agarose gels (up to 300 mg)
TBE agarose gels (up to 300 mg)
Sequencing reaction mixture (up to 50 µl)
Average rate of return
PCR-purification: ca. 60 % – 95 %
Gel extraction: ca. 60 % – 90 %
Sequencing reaction purification: > 75 %
depending on fragment length
Extraction time
PCR purification: approx. 3 minutes (2-step process)
Gel extraction: approx. 20 minutes
Sequencing reaction purification: approx. 2 minutes (2-step process)
Fragment lengths
PCR-purification: > 60 bp – 30 kb
Gel extraction: 100 bp – 30 kb
Binding capacity
Column binding capacity: > 20 µg DNA
What Our Customers Says
"We ensure a maximum yield and handling is easier and more comfortable"
"With your kit we ensure a maximum yield of 95-100 %. Additionally the handling is earier and more comfortable – and easier to convey to our biology students during their internships."
Dr. Eva Steinmetz, PostDoc and staff member of the Institute for Developmental Biology at the Saarland University Hospital, Germany
Order Information
| Order number | Quantity |
| --- | --- |
| 845-KS-5050010 | 10 reactions |
| 845-KS-5050050 | 50 reactions |
| 845-KS-5050250 | 250 reactions |
Contact us
We are happy to help you and will contact you as quickly as possible.