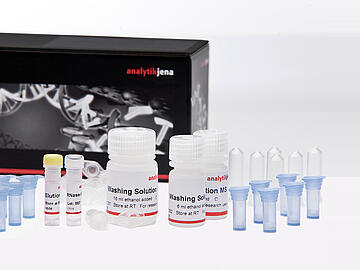 innuPREP DNA Mini Kit
Flexible and universally applicable for a broad range of starting materials
Patented DC-Technology for faster lysis and highly efficient gDNA binding
Spin Filter columns used for isolation
Product Details
The universal innuPREP DNA Mini Kit has been specially designed for fast, efficient purification of genomic DNA from a variety of different starting materials. The kit utilizes patented Dual Chemistry Technology (DC-Technologie), which combines a stringent Lysis Buffer with a novel Binding Buffer to help minimize the time required to purify DNA. The result is an extraction process that takes no more than 8 minutes (not including lysis). Spin Filter columns are at the heart of the isolation process, which is very easy to perform and offers a binding capacity of up to 100 µg of gDNA.
Specifications
Starting material
Tissue samples of up to 50 mg
Rodent tail specimens 0.5 – 1 cm in length
Paraffin samples (tissue)
Eucaryotic cells (max. 5 × 106)
Buccal swabs
Average yield
Depends on the type and quantity of the starting material
Up to 65 µg
Extraction time
Approx. 8 minutes after lysis
Binding capacity
Column binding capacity: > 100 µg gDNA
Order Information
| Order number | Quantity |
| --- | --- |
| 845-KS-1041010 | 10 reactions |
| 845-KS-1041050 | 50 reactions |
| 845-KS-1041250 | 250 reactions |
Contact us
We are happy to help you and will contact you as quickly as possible.