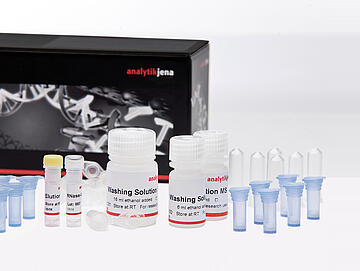 innuPREP Bacteria DNA Kit
Bacterial DNA extraction from gram+ and gram–cell cultures
Patented DC-Technology for short lysis times and efficient binding of bacterial DNA
DNA isolation from up to 1 × 109 bacterial cells
Product Details
The innuPREP Bacteria DNA Kit has been optimized specifically for isolating bacterial DNA from cell pellets after culturing, making it possible to process both gram+ and gram– bacteria. For bacteria that are particularly difficult to lyse the usage of the innuPREP Bacteria Lysis Booster is recommended. The extraction process allows an initial lysis step using lysozyme and a subsequent proteolytic digestion step with a highly efficient process for binding bacterial DNA to the surface of a Spin Filter membrane. The DNA is then washed and desorbed from the surface of the filter. Extraction is based on Spin Filter columns and, in addition to being very easy to perform, also makes it possible to bind more than 50 µg of bacterial DNA.
Specifications
Starting material
Gram+ and gram– bacterial cell pellets after culturing
Up to 1 × 109 cells
Average yield
Depends on the type and starting quantity and/or cell count of the bacteria
Up to 35 μg
Extraction time
Approx. 45 minutes
Binding capacity
Column binding capacity: > 50 µg DNA
Order Information
| Order number | Quantity |
| --- | --- |
| 845-KS-6010010 | 10 reactions |
| 845-KS-6010050 | 50 reactions |
| 845-KS-6010250 | 250 reactions |
Contact us
We are happy to help you and will contact you as quickly as possible.