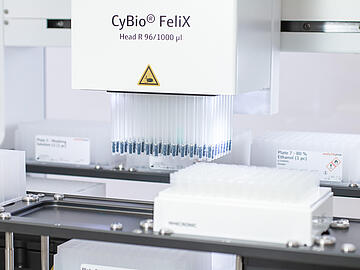 Automated Nucleic Acid Extraction
with CyBio FeliX
The Powerhouse for Nucleic Acid Extraction
CyBio FeliX extract is the solution for automated nucleic acid extraction in the 96-well format: Pipetting platform, extraction kits, software and consumables form a unit that accelerates your extraction workflow, delivers better results and makes your work easier.
Efficient - purification of up to 96 samples parallel
Reliable - reproducible results
Optimized - hardware and kits work hand in hand
Valid - extraction without carryover effects
Future proof - ideal for extraction of high molecular weight DNA
Install & Extract - CyBio FeliX & Extraction Set
A unique combination of hardware, software and kits: The CyBio FeliX Extraction Set makes your CyBio FeliX the ideal extraction system. This solution offers the possibility of high-throughput nucleic acid extraction on the CyBio FeliX and full flexibility regarding the number of samples to be processed. Choose freely between one and 96 samples to be purified - depending on your individual requirements. By using pre-filled extraction kits or performing pre-fill routines, necessary manual steps can be reduced to a minimum. Thanks to pre-installed extraction protocols for the Application Studio CyBio FeliX eXtract, extraction procedures can be started without any programming effort. Furthermore, with only a few modifications you can use CyBio FeliX for other laboratory routines, such as sample preparation or an automated PCR setup.
Start Your Application With a Few Clicks
The Application Studio CyBio FeliXextract was developed especially for the extraction applications by Analytik Jena. Start your application with just a few clicks in the visual interface. The software has a pre-installed library of extraction protocols that saves you time-consuming configuration. Simply select one of the pre-installed protocols, determine the elution volume and your application can begin.
Intuitive, visual user interface
Customizable design
Optimized protocols for various extraction applications
Viral DNA and RNA Extraction with the CyBio FeliX Extraction Set
Read our Blog post on how to improve your viral DNA/RNA extraction processes.
Ready-to-use extraction kits as consumables for CyBio FeliX & Extraction Set
With the transfer of AJ Innuscreen to IST AG, the business with kits and reagents also shifts. Please note that extraction kits are now only available from IST Innuscreen GmbH. From now on you can send your orders to order.innu@ist-ag.com or send your questions to info.innu@ist-ag.com.