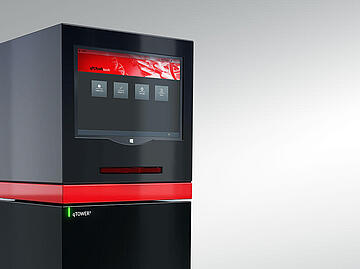 qTOWER³ Series of Real-Time Thermal Cyclers
Your way of qPCR
Powerful – ideal real-time PCR signals
Unrivaled – fast and precise results
Flexible – open platform for plasticware and reagents
Practical – easier and universal operating concept
Versatile – 96 or 384 well formats
The top performer among real-time thermal cyclers
The qTOWER3 utilizes eight individual light fibers capable of scanning an entire plate in only six seconds and eliminating the need for a passive reference. State-of-the-art block heating technology and temperature homogeneity across all wells is guaranteed with a gold coated silver block. These high-performance attributes combine to reduce the number of repeat analyses while increasing analysis speeds and significantly reducing cost per sample.
Outstanding performance – qTOWER³
Patented fiber optic system for ideal real-time PCR signals
Market-leading temperature control
Six-position filter module system capable of up to six-fold channel multiplexing
Exceptional gradient technology: 0.1 °C to 40 °C across 12 columns utilizing the Linear Gradient Tool
qPCRsoft package for easy control and operation of the thermal cycler
qTOWER³ Product Family – qPCR Your Way
The qTOWER³ product family of real-time thermal cyclers guarantees well-founded results with 12 color, FRET, and protein modules available to expand the qTOWER³'s capabilities as your research evolves. These real time thermal cyclers require no periodic calibration or maintenance for the life of the system and come with a market-leading 10-year optical warranty and 3-year warranty for the remainder of the system. All qTOWER³ models are available as a standalone system with a 10" touchscreen or as a computer-controlled system. The small 10.8" x 10.8" footprint makes it ideal for any lab.
What our customers say
"We're using it daily - with pleasure."
"Functionality: like a swiss army knife. Usability: like a T.V. set. Design: like from 'Bones' McCoy in Star Trek. - that's the qTOWER³ for us. We're using it daily - with pleasure."
Boris Fahrnberger, CEO COVID Fighters by Artichoke Computing GmbH
qTOWER³ Series
Choose the optimal thermal cycler for your needs
qTOWER³ and qTOWER³ G
Thermal cyclers for real-time PCR
High-performance systems for standard applications using real-time PCR, with an optional gradient function.
qTOWER³ touch and qTOWER³ G touch
Thermocyclers for real-time PCR with a touch screen
High-performance systems with easy-to-use touchscreens for standard applications using real-time PCR, with an optional gradient function.
qTOWER³ 84
Thermocyclers for high-throughput real-time PCR
High-performance systems for high-throughput applications using real-time PCR in a 384-sample multiwell format.
Applications
Applications
Extraction and Detection of Legionella DNA From Cooling Tower Water Samples Using InnuPure C16 touch and qTOWER³

Extraktion und Nachweis von Legionella DNA aus Wasserproben aus Kühltürmen mit Hilfe des InnuPure C16 touch und qTOWER3

Kompletter PCR-basierter Workflow zum Nachweis von SARS-CoV-2 in Abwasser (DE)
qPCRsoft
Intuitive controls and automatic evaluation
qPCRsoft, our real-time PCR control and evaluation software, provides you with intuitive controls and automatic evaluation in a flexible and user-friendly system. The software works automatically, providing a multitude of operations, such as the threshold calculation for the determination of Ct values, standard curves, PCR efficiencies, and advanced evaluation methods. Your ease of use is our priority. An optional 21 CFR Part 11 software module for the qTOWER³ family is available, which supports compliance with 21 CFR Part 11 FDA guidelines for electronic data security.
Consumables for this Device
Additional warranty
We extend your warranty
We extend your warranty free of charge to three years for many selected thermal cyclers. Register your product and benefit from the extended warranty. Quickly and easily – free of costs and obligations. You will run no risk.
Contact us
We are happy to help you and will contact you as quickly as possible.