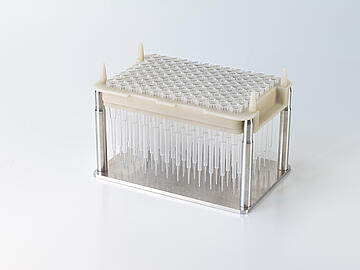 PhyNexus PhyTip columns
PhyNexus 1000 μL PhyTip columns have been designed and validated for use on the Analytik Jena CyBio FeliX robot. Analytik-Jena can provide an optimized and validated protocol for easy and quick implementation. PhyNexus PhyTip columns used with the proprietary Dual Flow Chromatography provide complete antibody binding for highly concentrated sample recovery from small samples.
PhyNexus provides a host of solutions, all compatible with the Analytik Jena CyBio FeliX system, delivering 96-channel, high throughput solutions, including:
PhyTip Columns for use with the CyBio FeliX
Select your PhyNexus PhyTip columns
To select the correct PhyNexus PhyTip columns for your application visit the PhyNexus webpage. On the webpage you will be able to select your resin, robotic system, tip and resin volume and see the results in an organized table.
Contact us
We are happy to help you and will contact you as quickly as possible.