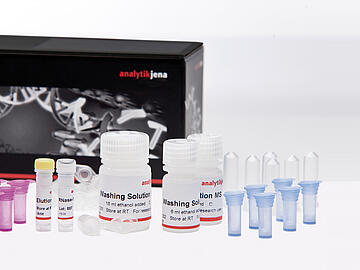 innuPREP RNA Mini Kit 2.0
Fast, efficient purification of total RNA
Product Details
Applicable for a wide variety of different starting materials and in varying amounts
Kit for RNA isolation from tissues samples and biopsies, eukaryotic and bacterial cells (gram- and gram+)
Selectively removes genomic DNA with no DNase digestion
Eliminates need for using toxic β-mercaptoethanol
Excellent quality (A260:A280 and A230:A260) and high quantity of isolated RNA
Optimized protocols can be combined with innuSPEED Lysis Tubes
The innuPREP RNA Mini Kit 2.0 is a jack-of-all-trades when it comes to extracting total RNA. The specially optimized Lysis Buffer system guarantees isolation of intact RNA and lasting deactivation of endogenous and exogenous RNases. A precolumn contained in the kit can be used to remove genomic DNA, which utterly eliminates the traditional need for DNase I digestion. The RNA is then bound to a second Spin Filter membrane, washed and finally eluted in 30 – 80 μl of RNase-free water. As such, the extraction process can be concluded in 15 – 40 minutes, depending on the starting material. Compared to the precursor version extraction protocols as well as Spin Filter columns are optimized and thus guarantees total RNA that is enhanced in terms of both quality and quantity.
The innuPREP Bacteria Lysis Booster is also available to further optimize the lysis of bacterial cells, particularly with regard to bacterial strains that are difficult to lyse.
Specifications
Starting material
Eucaryotic cells (max. 5 × 106)
Tissue samples (max. 20 mg)
Gram+ and gram– bacteria (max. 1 × 109)
Biopsies
Average yield
Depending on the type and quantity of the starting material
up to 100 μg RNA
Extraction time
Approx. 15 to 40 min
Quality
1.8 – 2.1 (A260:A280)
Binding capacity
Approx. 100 μg RNA
Order Information
| Order number | Quantity |
| --- | --- |
| 845-KS-2040010 | 10 reactions |
| 845-KS-2040050 | 50 reactions |
| 845-KS-2040250 | 250 reactions |
Contact us
We are happy to help you and will contact you as quickly as possible.